Feature-rich

online assessment platform

Powerful and user-friendly features make candidate screening with Evalgator effective and easy.
Comprehensive

job assessments

Design multi-format tests for an accurate assessment of your candidate's knowledge, aptitude, and skills.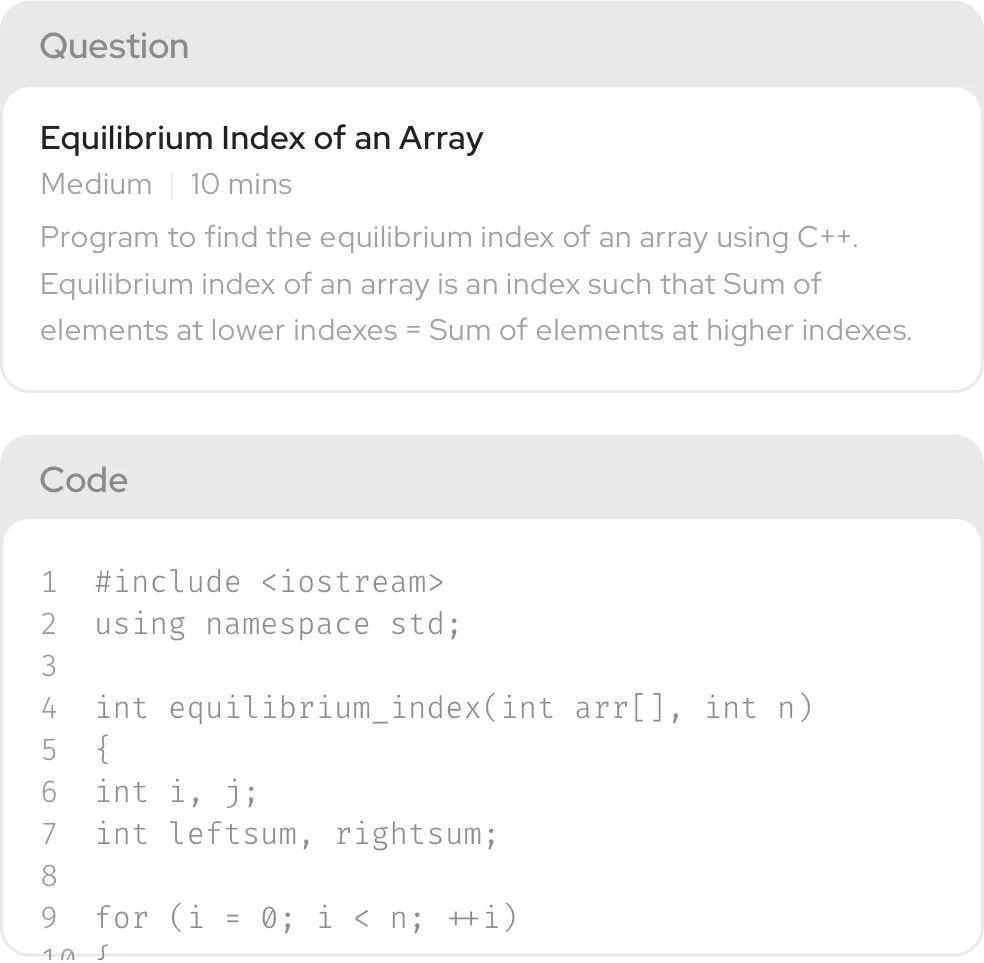 Coding
Multiple choice
Fill in the blanks
Descriptive
Video
HTML
Built-in

cheat resistance

Deter and detect rule violations using a host of anti-cheating measures.
Remote
proctoring
Keep a check on candidates using automatic face capture and AI-based face monitoring.
No
copy-paste
Disable copy-pasting to dissuade candidates from copying answers from the internet.
Question
randomization
Randomly select questions from a question pool and shuffle the order in which they appear.
Option
shuffling
Jumble the options for multiple choice questions across candidates.
Discover more
under-the-hood
features
Automated
assessment scoring
Scoring is automatic, so you don't have to waste time or effort grading each answer yourself. Evalgator auto-grades the answers based on predefined criteria and calculates each candidate's score. Thus, you have the results and a shortlist ready within a few minutes of an assessment.
Multi-slot

assessments

Want to increase assessment attendance? Go for a multi-slot approach. Simply choose a start date and end date for your assessment, and the system will dynamically generate mulitple time slots. Candidates can choose a slot that suits them best and attend the assessment at their convenience. At the end of each slot, you can see the updated results for the assessment.
Time extension

on a case-by-case basis

Evalgator offers the flexibility to extend the assessment time for all or select candidates depending on the context. By extending the time, you can give candidates an equal opportunity to showcase their knowledge and skills, regardless of technical difficulties they face on their side.
IP-based

restriction

IP-based restriction provides a layer of extra security to your remote assessments. This feature helps you ensure that only candidates from approved locations take your exams. Depending on your requirement, you can restrict your assessment to a single IP or a range of IPs. Anyone attempting to join from an unauthorized IP address will be denied access.
AI-based
grammar check
Say goodbye to time-consuming manual verification of descriptive answers. The AI tool does it automatically. It verifies the grammatical correctness of answers and assigns scores instantly. Simply initiate the check after an assessment is complete, and the tool will provide immediate feedback along with suggestions for improvement. Scoring essays and language proficiency tests is now that easy!
Custom
branding
Employer branding plays a significant role in hiring as it helps reinforce your brand value to candidates. By personalizing the email invites sent from the Evalgator platform with your own company logo, you can create a consistent brand experience for candidates.
Real-time
broadcasting
Have an important announcement to make while an assessment is in progress? You can make use of the live broadcasting feature in Evalgator to do so. The broadcast controls are easy to use, so you can roll out important information to all candidates without disrupting the assessment.
Superior

candidate experience
Enhanced code editor
Not every coding assessment platform is created equal in terms of candidate experience. Evalgator is consistently rated high by candidates for its professional coding experience. It provides an efficient coding environment to write, compile, and run code. Support for popular programming languages makes it the ideal technical assessment platform for any IT role.
Live chat support
A two-way chat feature facilitates instant communication between candidates and your team. Candidates can reach out to you quickly if they have any questions or concerns during an assessment. You can offer them real-time feedback and assistance, ensuring a positive candidate experience.
Free mock test
Attending the trial assessment on Evalgator helps candidates become acquainted with the assessment platform before they take the actual exam. You can use this feature to simulate the actual exam environment, allowing candidates to experience the exam format and different question types.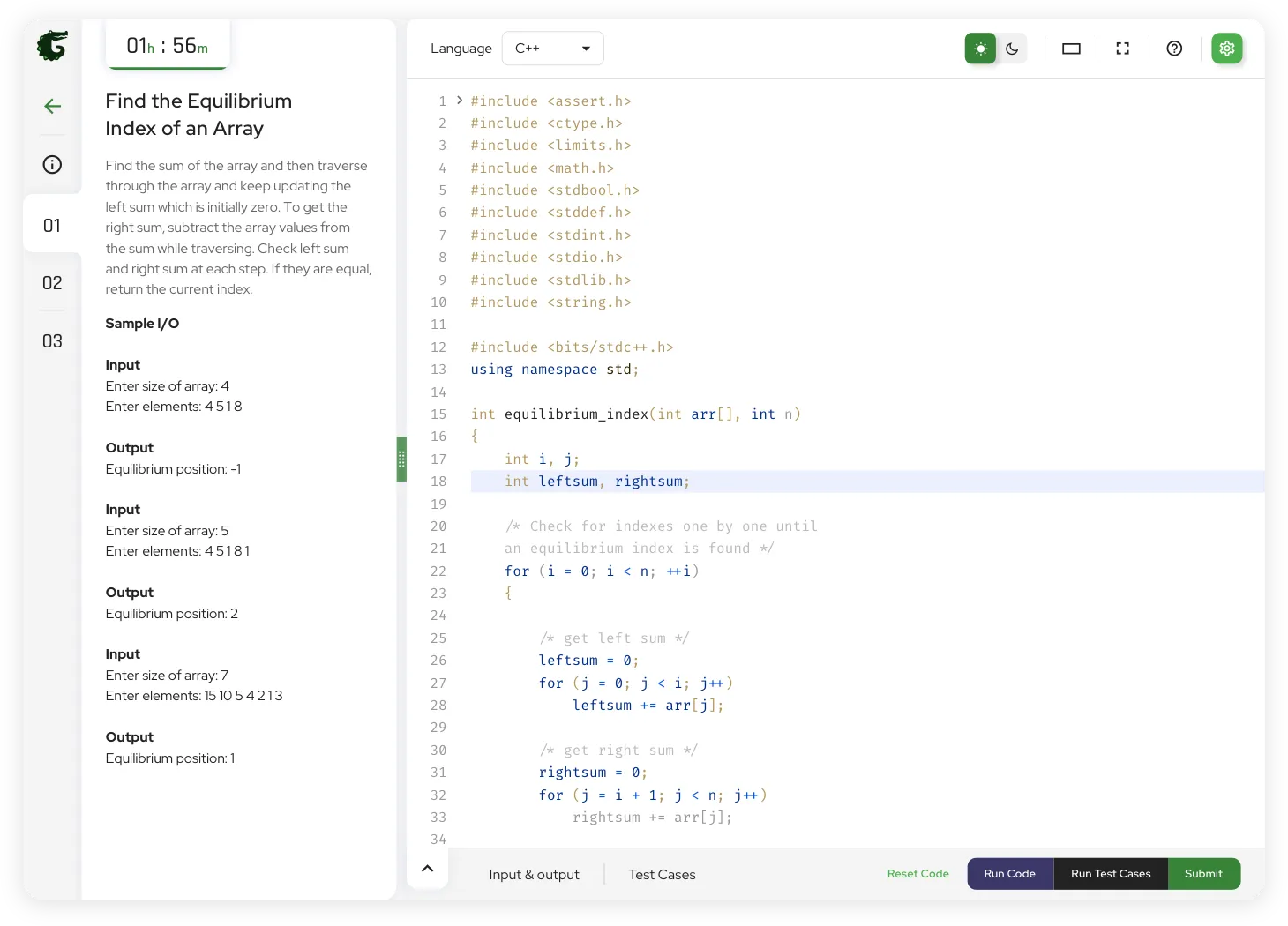 Competitively priced custom assessments
Deploy our state-of-the-art screening platform without breaking the bank.
Sign Up for Free
Online coding tool for developer interviews
Assess on-the-job skills of tech candidates using Evalgator's collaborative code editor and fast compiler.
See All Features
Contact us
We are here for you! How can we help?
I'm a Recruiter
Conduct assessments and interviews for your company.
I'm a Job Seeker
Practice coding and prepare for interviews.
I'm a Recruiter
Conduct assessments and interviews for your company.
I'm a Job Seeker
Practice coding and prepare for interviews.